Ensign Resign? Keep Dreaming!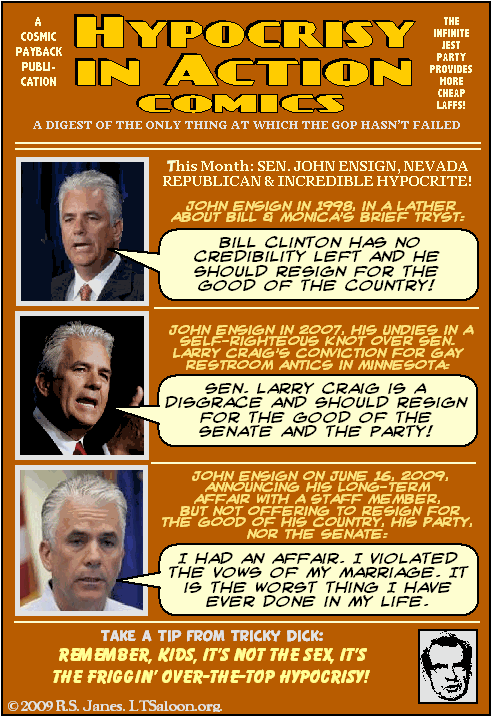 "Last year I had an affair. I violated the vows of my marriage. It is the worst thing I have ever done in my life. If there was ever anything in my life that I could take back, this would be it."
— Sen. John Ensign (R-NV) on June 16, 2009, as quoted by the AP. "Sen Ensign Admits Affair with Ex-Campaign Staffer"

"Our families were close That closeness put me into situations which led to my inappropriate behavior. We caused deep pain to both families and for that I am sorry."
— Sen. John Ensign (R-NV) on June 16, 2009, as quoted by the AP.
"Ex-Campaign Aide to Sen. Ensign Confirms Affair"

"A born-again Christian, Ensign has been a member of the Promise Keepers, a male evangelical group that promotes marital fidelity."
— Manu Raju, et al, "Admission clouds Nevada Sen. John Ensign's future," Politico.com, June 16, 2009.

"There's too many people that paint with a broad brush that we're all corrupt, we're all amoralAnd having these kinds of things happen, whether it's a Republican or Democratic senator we certainly have had plenty of Democratic scandals in the past we need people who are in office who will hold themselves to a little higher standard."
— Sen. John Ensign, as quoted by CNN's Political Ticker, Oct. 18, 2007.

"This is a personal situation and I hope he gets it resolved."
— Sen Lindsey Graham (R-SC) on Ensign's affair, as quoted at Politico.com. [Graham wasn't quite as generous to Bill Clinton.]

"Im pulling for him."
— Sen. Harry Reid (D-Idiot) on Ensign's adultery, forgetting what team he's supposed to be playing on, as quoted at Politico.com.

"I wouldnt put myself, hopefully, in that kind of position, but if I was in a position like that, thats what I would do [resign]. [Craig's a] disgrace!"
— John Ensign's 2007 advice to Sen. Larry Craig (R-I-de-ho) after it was revealed Craig was convicted in Minnesota for gay bathroom antics.

"I call on Sen. Craig, if he loved the Senate and his party, he would keep his word [to resign]."
— Sen. John Ensign, as quoted by CNN's Political Ticker, Oct. 18, 2007.

"'I came to that conclusion recently, and frankly its because of what he put his whole Cabinet through and what he has put the country through,' Ensign said Thursday, becoming the first member of the Nevada delegation to call for Clinton to quit. 'He has no credibility left.'"
— John Ensign demanding Clinton's resignation in 1998 for an adulterous affair.

"Is Ensign's Sex Scandal More Than a Sex Scandal?"
Paul Blumenthal, The Huffington Post, June 17, 2009.