Glenn Beck Thinks He's Just Like Martin Luther King?
Here's the Big Lie technique in action, from the same 'nonviolent' idiot who fantasizes on-air about killing or harming Michael Moore, Charles Rangel, Nancy Pelosi and numerous generic 'progressives.'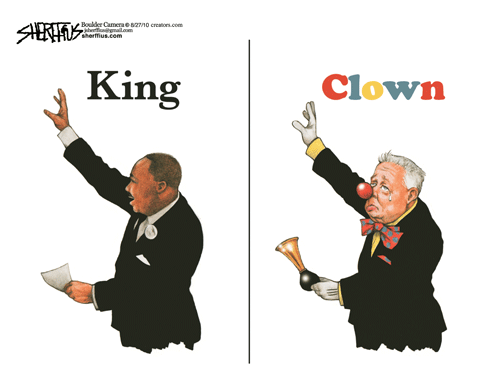 cartoon copyright John Sherffius
"On Martin Luther King, Jr. Day, Glenn Beck posted copies of King's Pledge of Nonviolence and his own nonviolence pledge — issued in the wake of the shooting in Arizona — on his website and urged people to 'read both' and 'see the similarities.'

"As Media Matters has previously noted, Beck's pledge is steeped in politics and contains a very thinly-veiled attack on President Obama. Moreover, Beck has a long history of violent rhetoric with which potential pledge-signers may not want to associate."
— From "On MLK Day, Beck Compares His Nonviolence Pledge to King's," Media Matters, Jan. 17, 2011.

"First, Martin Luther King, Jr.'s Pledge of Nonviolence
Pledge of Nonviolence

1. As you prepare to march meditate on the life and teachings of Jesus
2. Remember the nonviolent movement seeks justice and reconciliation – not victory.
3. Walk and talk in the manner of love; for God is love.
4. Pray daily to be used by God that all men and women might be free.
5. Sacrifice personal wishes that all might be free.
6. Observe with friend and foes the ordinary rules of courtesy.
7. Perform regular service for others and the world.
8. Refrain from violence of fist, tongue and heart.
9. Strive to be in good spiritual and bodily health.
10. Follow the directions of the movement leaders and of the captains on demonstrations.

"And here is Glenn's:

Pledge of Nonviolence

I challenge all Americans, left or right, regardless if you're a politician, pundit, painter, priest, parishioner, poet or porn star to agree with all of the following.

I denounce violence, regardless of ideological motivation.

I denounce anyone, from the Left, the Right or middle, who believes physical violence is the answer to whatever they feel is wrong with our country.

I denounce those who wish to tear down our system and rebuild it in their own image, whatever that image may be.

I denounce those from the Left, the Right or middle, who call for riots and violence as an opportunity to bring down and reconstruct our system.

I denounce violent threats and calls for the destruction of our system – regardless of their underlying ideology – whether they come from the Hutaree Militia or Frances Fox Piven.

I hold those responsible for the violence, responsible for the violence. I denounce those who attempt to blame political opponents for the acts of madmen.

I denounce those from the Left, the Right or middle that sees violence as a viable alternative to our long established system of change made within the constraints of our constitutional Republic.
— ibid.