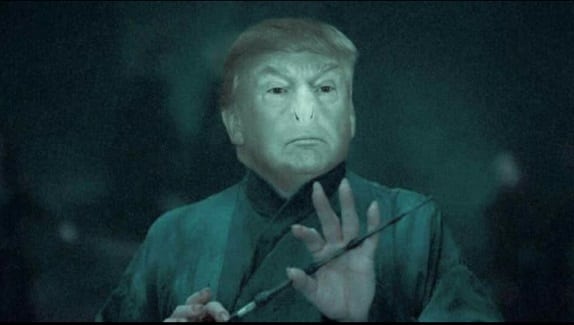 Courtesy bunw.com
 When I write my columns sometimes I write out of passion, sometimes logic, and sometimes I have written several potential columns but I keep thinking, "I am writing about what everyone else is writing about. So what am I missing? Is there something important that we aren't writing about?"
 This is one of the last kind of columns. I am guessing it won't be popular with many. But it is, I fear, the only way forth from here. And, since I love literary and movie metaphors, we'll have a few of those too.
 We have those plotting amongst us to turn the nation into a rather brutal one party dictatorship. And it's not Republican, Liberal, Democratic nor Conservative. For now we could call it the Trump Party, the MAGA Party. Think of them as worse than Harry Potter villains, if you wish. There's even magic involved, bad, pathetic magic. Worse than the most untalented magicians you've ever seen. Magic no one with an atom of common sense is buying anymore.
 But as January 6th showed it has nothing to do with common sense, and it's definitely NOT fiction. We can't just walk out of the theater thinking there's some happy ending, or wait for a sequel to resolve the situation. Waiting is the worst thing we can do. They do, and will, commit murder if it suits the cause. They will do anything to get and keep power; including pipe bombs, putting cops in the hospital… so much for "blue lives matter" …beat cops with flag poles and the flag… so much for respect for the flag. Smearing feces all over the halls of Congress. And just keeling is "offensive?"
 There are many ways we defeated Donald Trump this time. Let's consider perhaps the most crucial: bases, and how keeping a very diverse base together is important to keep worse than Voldemort villains from destroying the country, and what little freedom we still have. I go there because the win certainly had far less to do with better stances, popular opinions or any solid, firm, agenda.
 Part of the winning base was progressives: those who sincerely loathed Donald Trump; more than they loathed the less than progressive stances previously held by Joe Biden. Those who also understood what a danger another Trump term posed for the country. Then we have the Democratic Party base that Trump tried to marginalize, minimize, even kill. Example: during a time of COVID mail in voting was the better, safest, option. Kill the post office. Kill blacks, more vulnerable to COVID than others and a big, reliable, voter base. And lastly: not to diminish them at all, Republicans, like The Lincoln Project. They recognized Trump for who he is, has always been. Smart enough not to be sucked into the cult. That Trump is NOT a conservative or even Republican. Certainly not in the tradition of Buckley or Goldwater. Not even Reagan. They refused to bow to the dictatorial demand for loyalty, bow to Trump-ian political correctness, goosestep to Marmalade mind's demands.
 You do know that's how his hair got that orange, right?
 Jokes aside, in this column I am addressing ALL of this extremely wide base. We have one more mission and EVERYONE is going to have to compromise to get where we need to go.
Read more