Written by LZ Granderson for CNN.com
Editor's note: This is one of a series of CNN Opinion articles on the question, "Why is our government so broken?" LZ Granderson, who writes a weekly column for CNN.com, was named Journalist of the Year by the National Lesbian and Gay Journalists Association and is a 2011 Online Journalism Award finalist for commentary. He is a senior writer and columnist for ESPN the Magazine and ESPN.com and the 2009 winner of the Gay and Lesbian Alliance Against Defamation award for online journalism. Follow him on Twitter at @locs_n_laughs. Watch him on CNN Newsroom Tuesdays at 9 a.m. ET.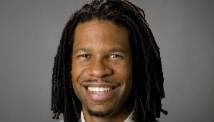 (CNN) — Whenever I visit Washington, I can't help but think this is the town that elected a crackhead as its mayor.
I know, I know it's not PC to say, but just because it's insensitive doesn't mean it isn't true.
But think about this: There is footage of Marion Barry in a room of crack smoke saying, "Bitch set me up." And yet that image, that video did not disqualify him from being seen as a viable political option in the mind of voters. In fact, not only was he re-elected mayor after serving time in a federal prison, today he sits on the City Council, all because he managed to convince enough black people that the video of him with the crack pipe in his mouth was white people's fault.
Read more